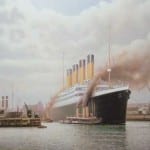 The R.M.S. Titanic sailed from Southampton on Wednesday April 10 with 2,208 passengers and crew.
On a clear, starlit night, Titanic could not see far enough ahead to see ice and avoid striking it.
Even on a bright moonlit night, unless the moon was behind the ice, outlining it, ice might easily be overlooked.
On the night of April 14,1912,the sea was unusually calm, and there was no moon.
It was difficult to see. In addition the binoculars for the lookout had been misplaced before the ship departed Southampton.
Glittering stars in their black background, Sunday April 14 at 11:40 PM Titanic struck a submerged spur of an enormous iceberg.
Two hours and forty minutes later, at 2:20 AM she plunged into the black abyss.
1,500 innocent men, women and children perished on that fateful night…