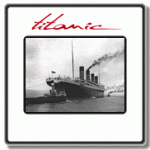 She was called "the ship that God himself couldn't sink."
The White Star Line called it's ship the R.M.S. Titanic.
On April 10,1912,the "unsinkable" Titanic left Southampton on her maiden voyage to New York.
On her way over, gliding through a calm sea,unaware of all obstacles, the "unsinkable" Titanic brushed
an iceberg and went down a cold April night.
Two hours and forty minutes later she upended and sank, carrying 1,503 innocent men, women and children to their deaths.
Only 705 survivors were picked up from her half-filled boats.
There will never be another like her.For over 91 years the Titanic has sat at the bottom of the deep-blue sea.
The Titanic has cast a spell over all who built and sailed her.
Let us all pray to God for those who perished on that fateful night…