Enchanted Castles Coat of Arms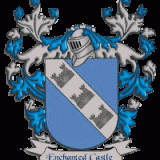 The Coat of Arms was designed and made in the 1980's. It is shown here as an example of heraldry with terms.
AZURE, A BEND ARGENT, THREE CASTLES TURRETED SABLE; HELM MANTLING: AZURE, ARGENT WREATH: AZURE, ARGENT MOTTO: ENCHANTED CASTLES – WHERE HISTORY AND FANTASY MEET
This Coat of Arms was designed by Lady Kathleen
Dictionary of terms:
ARGENT – Silver. AZURE – Blue.
BEND – One of the honorable ordinaries formed by two diagonal lines drawn from the dexter chief to the sinister base; it generally occupies a fifth of the shield if unchanged, but if changed, one-third.
CASTLE TURRETED – A castle having small turrets.
DEXTER – Left. MANTLING – The flowing drapery forming the scroll-work displayed on either side of the helmet from beneath the wreath, representing the ancient covering of the helmet used to protect it from stains or rust.
SABLE – Black.
SINISTER – Right.
WREATH – A chaplet of two different colored silks wound around each other, and placed on the top of the helmet. The 3 Castles symbolize Kathleen and her 2 children that as bonded by love!